webInOutBoard
Summary:
webInOutBoard lets you toss that employee in/out whiteboard in favor of a simple web page that employees can mark themselves in and out, leave notes on when they will be back, or find quick contact information for a coworker.
webInOutBoard is a web based script written with PHP that uses a mySQL database to store user information.
Files:
Install Instructions:
tar -zxvf webInOutBoard-*.tar.gz
chmod a+rX -R webInOutBoard
Add a user, password, and database on your mySQL server for webInOutBoard. I like phpMyAdmin for working with mySQL.
Edit dbinfo.inc.php to fit your system. Remember anyone who has an account on your system can likely see the contents of this file.
Go to http://www.example.com/path/to/webInOutBoard/setup.php
Then try http://www.example.com/path/to/webInOutBoard/
If you want to add a login, use the .htaccess/"require valid-user"/AuthName functionality of Apache to restrict access to this folder.
Example: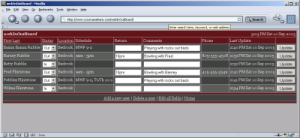 Changes:
v0.1c:
- Only prints the time on Last Update if the date is today in place of the full date/time.
- Sort will use first name as the second sort by field.
v0.1 First release!
To Do list:
To do: Merge all php pages, except setup.php into a single file.
To do: Add better form input validation.
To do: Add better SQL result message processing.
To do: Dress up the Add and Delete user pages.
To do: Add a "Set all out at X location"
To do: Add option to make row color dependant on the Status
Author:
Philip Shuman
philip at shuman dot org
http://www.shuman.org